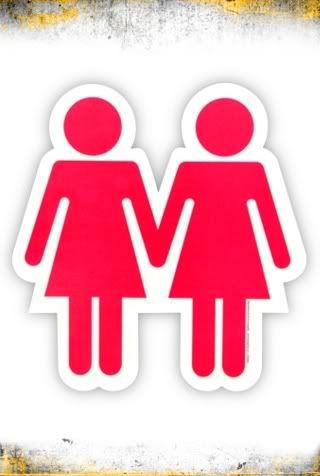 There is an entire class of lesbians in the world that nobody gives much thought to... lesbians who are facing death.
It's easy to say that we are all dying (whether you are gay, straight, asexual or trans); but that really can't compare to the impending doom of actually knowing how long you have until you're going to die.
If you've been a reader of this blog for the past year you might know that I have
an illness that affects many lesbians
called PCOS. This is something I have had for over a decade now and so I thought it was a routine problem when I started having pain in my abdomen a few months ago. I didn't even think too much of it when I lost close to 15 pounds in just one week shortly after. I did start to worry however, when I noticed that I had a fever which wasn't going away.
After a few visits to my doctor, ultrasounds, a CT scan and an MRI, my doctor was telling me I had two tumors in my liver that "looked pretty bad". By this time 6 weeks had gone by and my pain had begun to spread from my abdomen and through to my back, and I was in bed for a good portion of the day when the pain was too intense. When he told me that the tumors in my liver "looked pretty bad" and "could possibly be liver cancer", I still held my head up high and I tried not to be too worried. Waiting for the results of my biopsy was hard to do. Doing my research online, I tried to find hopeful information; and knowing that many people have beaten cancer before, I held on to the knowledge that I could too.
Throughout the process I was faced with new experiences and relationships with strangers in an extremely tough time. Every time I took a major test I would have to answer the basic questions and essentially 'come out' to every person who took my health insurance information and emergency contact name, and sometimes explain to nurses why I wasn't taking birth control. Because I was a young 31 years of age, many of the hospital workers who where assigned to me for whatever reason were curious to know about my tumors and basic health situation, which would eventually lead to them asking who the woman was that was with me. It was always a toss up on how they would react when I would respond with "She's my wife".
My friends and family had a variety of responses too, and it made the situation that much more real. Because I am a mom my main concern is always my children, and so even though I didn't want to worry any of my family or friends, I had to let them know what was going on so that they could help me keep an eye out for the kids. Looking into the situation I was facing brought me down to my knees, and so I asked for everyone in my inner circle to pray and meditate on the situation to bring a positive outcome if possible.
The life expectancy of someone who is facing liver cancer is just 3-6 months, and for me, two months had already passed since I began to notice pain. My fever had gone away, my blood work was clear and I was noticing that I could bring my pain down if I didn't eat very much – so I had hope; but I wasn't taking any chances and I decided to call the
Cancer Treatment Centers of America
, which I had seen commercials for on television with many survivors of cancer. I browsed their website for their survivors list which was very long.
There were many survivors of breast cancer, and other cancers, but for liver cancer there was just one.
I was truly terrified that this could be it for little ole me! But I was not giving up and prepared myself for a fight.
When I called the Cancer Treatment Centers of America I spoke to a gentleman who was very sympathetic to my situation and who had been cancer free for twenty years. I was very pleased to find out that they would pay the travel expenses for me AND for my wife to fly out to their center for treatments. My sexual orientation was not a factor at all for them and I was very comfortable calling on them for help.
I talked to my family about what would happen if the biopsy showed cancer, and also took a trip to
LegalZoom.com
to get started on the legal paperwork I had put off for so long. I needed a Power of Attorney for general legal affairs, a Living Will to make known my wishes for resuscitation and donor status, and a Last Will to make known my wishes should I pass away. My wife and I had never talked about things like this before, only jokingly or in passing. But this situation brought us face to face with reality and we had some of the deepest most meaningful conversations we have ever had in these past few months.
During this time I didn't really have much energy to blog or work on any of my lezsites, but I did find that there are other lesbians out there facing the same situations just by noticing those around me while on my medical travels. Sometimes you can hear patients in the hallway outside your room, or when you are at the front desk at your doctor's office. Dropping off prescriptions, and filling out forms I bumped into many gay girls along the way.
Ironically, it was a gay girl who gave me my biopsy results and I am truly thankful to her because she handed me the best news of my life… the tumors are NOT cancer! W H E W!!!
It's hard for me to be speechless but this day I was! The only way that I can explain it, is that I was doing cartwheels on the inside for miles and miles. LOL
My whole network of friends and family were celebrating and excited and happy that we dodged that bullet. I truly feel like I have been given a new lease on life!
After visiting a few more specialists I have been scheduled for an outpatient surgery in a few days and some other procedures in the coming weeks. These things should bring me some pain relief but ultimately knowing that I don't have to worry about things like chemotherapy is the biggest relief for me right now. At my last appointment my doctor told me that my pains are "not life threatening" and I can enjoy my holidays which is exactly what I intend to do.
Now that I am not facing death, I find that I have to face my life instead!
That's a whole different experience altogether, and the most important thing that I have found through it all is in surrounding yourself with people who love and support you, and supporting the people that you love as well.
I've found myself focused on what is really important in my life, and I hope that sharing this story with you will help you to do the same. Life really is too short, and if you stop and think about it – have you done all that you want to with your life? Have you said all that you need to say? Have you lived out all that you need to live? It's definitely worth thinking about… and then living!
About the Author: Julie Phineas is a work at home mom of 2 who lives in Southern California. You can find out more about her by visiting her website at www.juliephineas.com.
If you are a lesbian facing Cancer, you can find helpful information specifically for lesbians at www.MautnerProject.org.