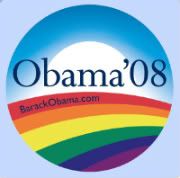 Now that Barack Obama has won the presidency and John McCain has conceded, the LGBT community can breathe a bit easier than we did during the Bush Administration.
When they announced that Barack Obama was the next President of The United States I was absolutely stunned. I think that part of me expected a repeat of what happened in 2004 with Bush and Al Gore. Clearly Barack Obama was the winner in this race and as soon as the polls closed in the west ABC News announced him as the new President. I was hooting and hollering and my kids were laughing at me, LOL. Then I called my wife at work and hooted and hollered to her on the phone!
I am completely jazzed to have Barack Obama as our new president, because he brings hope for change in so many of the areas where our country needs it.
The media is already speculating how he will move forward at this point, what his policies will be blah blah blah. Right now, all I can think is that tonight is a historical moment in time. The simple fact that we elected our first African-American U.S. President gives children in that particular culture a magnificent role model and the glass ceiling has been shattered in the White House.
It's exciting to see that many of the states inhabited by loyal Republicans, including the state of Florida, gave their electoral votes to Obama.
With this historical change, and a widespread unity behind justice across the nation, we can surely reach that American Dream we all dream of.
About the Author: Julie Phineas is a work at home mom of 2 who lives in Southern California. You can find out more about her by visiting her website at www.juliephineas.com.