In my adventures as a lesbian mom, I have realized that my life has changed on every single level since I became domestic partners with Gina.
Something that was a subtle change for me was my shopping habits. What I noticed when I shop now is that I am buying items for another woman as a spouse, and that I've joined a unique category as a consumer that isn't always accommodated in the retail world. For example, when shopping for gifts for each other, my wife and I have had some pretty interesting experiences in explaining to the salespeople what we are looking for. We are totally cool with coming out to the people who are providing customer service so that they can help us find what we're looking for. It's mostly an issue for my wife, who is more butch than I am. Say she goes to a lingerie store looking for lingerie as a gift for me, the salesperson might nervously ask her "Is this item going to be for you… or will it be a gift?" *LOL My wife is not the lingerie-wearing type, nor is she the type to wear perfume; she wears cologne. The perfume counter might ask her something like "Is this item for your mother?" It's a very subtle probing question, and I think the real issue is that some employees aren't trained to be sensitive to the needs of shoppers who might not necessarily be out to purchase something for an opposite sex partner.
It's not always the salespeople who are probing, sometimes it's the other shoppers.
I'll give you a great example of what I am talking about…
Today I went to Target and was shopping the Valentine Card section for cards for the wife and kids. Well there is not a Gay and Lesbian Gift Card Section so I was choosing a card from the section titled "wife". The sensation of being watched crept up and I noticed that to the immediate left of me were 3 women reading cards in the "husband" section and one was eyeing me with curiosity. Maybe she knew I was gay, maybe not. Who knows, who cares. Point is – there should be a freakin' Gay and Lesbian section for gift cards and everything else too!! *LOL
Although, buying clothes for each other is not so bad.
Most people don't pay any mind to a woman who shops for clothes. (*wink) I think that going to the shoe store falls into the same category as clothes. Buying office supplies is unisex, and so is going to the mall or buying fast food. Another unisex shopping experience is going to any stores that have to do with the kids such as GameStop. (Nobody cares whether you are butch or femme at GameStop.)
Some funny shopping experiences are shopping for the house at places like Home Depot and for personal products at the pharmacy.
Like I said we are out so we are calling each other the usual pet names and holding hands like every other couple; plus the kids are calling both of us Mom so it's no secret that we are a lesbian couple raising kids together. We pretty much go everywhere as a family together, and we'll all 4 be together at Home Depot and the workers will usually tell my partner all the instructions and details since she's butch. They don't consider the fact that they should be talking to me because I'm the one with the lipstick on, when
I'm
the one who does the dirty work when the toilet needs a fixin'. That's just how we roll - sometimes she bakes and sometimes I fix the toilet. (*LOL) Recently we had some fun with the people at CVS too, when we had to buy some pregnancy tests. Come on… you know they were wondering which one of us it was for! HAHAHA
Dining out, traveling, and checking into hotels is an interesting experience as well.
We went on a cruise to the Bahamas in 2006, and we stayed in Florida a few nights as well. We rented a car from the airport, stopped for breakfast at IHOP and checked into the Ramada. You could cut the tension in the air with a knife when my wife and I walked into those places. People will ask us if we are sisters and we're holding hands. Sometimes I would think to myself "Dude - you would rather believe I am kissing my sister than fathom that there are real live lesbians standing in front of you?" In any case, we're aware of how others are looking at our actions so we are sure that we keep it real and don't let people keep us from enjoying ours meals, etc.
Some places that I do like to go together are the spa, getting our hair done, and going to the beauty supply store.
The workers at these places are usually very welcoming to the both of us because we are both women, and this can be a refreshing retreat from Home Depot since we are being regarded as equals. (*smile) Another place that treats us this way is the internet so we do a LOT of shopping online. We don't do our grocery shopping online, that's one thing we like to do is go grocery shopping together. The only weird tensions come from other shoppers who actually care enough to realize that we are lesbian moms, and might be uncomfortable with it; but honestly that doesn't happen that often at the Albertson's that we go to. We've never had that experience at Ralph's, although we do like to go to smaller type grocery stores sometimes and that's always a toss up on how it's gonna go.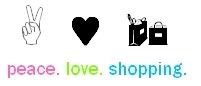 The issue of shopping for a two mommy family has been a really subtle experience that I've noticed recently and thought that I would share with you.
I hope that this post has made you think a bit about how you shop. Every dollar you spend grows a business somewhere. Stores exist because of consumers and some of those consumers are gay! Companies should expand to include products for the LGBT community - and other under-represented communities as well - if they want to continue to prosper in the New Millennium. Society is evolving towards an attitude of acceptance and consumers like me notice the subtle differences.
Thank you so much for reading this post and I hope that you'll visit again soon. Take care until next time! Sincerely, ~Julie Phineas~
About the Author: Julie Phineas is a work at home mom of 2 who lives in Southern California. You can find out more about her by visiting her website at www.juliephineas.com.